YOUR SATISFACTION GUARANTEED: If you are not completely satisfied with any of our products or services, Easy Foam© will remove the equipment and chemicals from your location and refund the full purchase price of all unused chemical product.
Foaming Cooler Cleaning vs All The Rest . . .
There are various ways that are currently used to clean fin fan and compressor radiator coolers, aerial coolers.
Companies and operators have been using them for years. Cleaning processes are constantly changing and the
industry needs to change with them. We would like to explain to you, why it is important to have clean coolers and
how the current methods stack up to the newest foaming cooler cleaning process that is available with Easy Foam . . .
Why Easy Foam Is The Correct Process For Your Cooler Cleaning . . .
When evaluating which company and the type of cooler cleaning process they use, that best suits your plant or site area, it is always good to know the reasons why and how the process works and what the advantages are within their cooler cleaning process.
Why Risk Damaging Expensive Coolers
With Pressure Washers Or Plain Water Rinsing,
When It Costs So Little To Do It The Right Way.
The Easy Foam Way!
Easy Foam Is Proud To Present
A Revolutionary Methodology
For The Proper Foam Cleaning Of
Fin-Fan And Compressor Coolers
PHONE: 405.830.3000
EASY FOAM HOME PAGE
BEGINNING THE FOAMING PROCESS
Biodegradable, Environmentally Safe And Extremely Effective!
The creators of Easy Foam, have developed an application system, that utilizes biodegradable and enviromentally safe products, that are extremely effective when it comes to cleaning fin fan and compressor radiator coolers. This system and our products, help to eliminate many of the nonproductive costs associated with heat exchanger cooler cleaning.

Our Classic Foaming Agent, is an excellent solution for removal of dirt and debris from horizontal and vertical coolers, by saturating and expanding throughout every division of the heat exchanger. Then utilizing a low pressure rinse minimizes the risk of damaging equipment and is safer for personnel.

The Easy Foam Application Systems have been developed to allow on-site maintenance crews, plant personnel or your favorite local contractor, the ability to perform the foaming cooler cleaning operations on your equipment, with a minimal amount of training, whenever and wherever it may be needed. Now you can clean on your schedule and not that of a hired outside contractor. We like to call this your, "ISCO", Internal Self Cleaning Operation.

You decide when to handle maintenance procedures. You can just make it part of your regular Preventive Maintenance Schedule. Convenient :: Safe :: Very Affordable. You will now have the ability to maintain peak performance of your coolers and radiators, while saving from 30% to 70% of your cost to have an outside contractor do your maintenance cleaning.
Let's Breakdown The Easy Foam Process For You.
• Our Equipment And Systems That Are Extremely Operator Friendly. No long, drawn out training on how to operate equipment or on how to clean your heat exchange coolers.
• Our Products Are Biodegradable And Environmentally Safe. No harm to personnel, equipment or the environment.
• You Decide When To Handle Maintenance Procedures and Cooler Cleaning. Whether your facility is on-line at the time of cleaning or during your off-line (area or plant shutdowns) maintenance, clean only what needs to be cleaned, when it needs to be cleaned.
By Utilizing The Easy Foam System, The Results Are Undisputable. You receive improved cooler performance and efficiency,
which leads to increased production capability. Your heat exchangers result in less energy requirements, allowing fans to be
turned off or run more slowly. Your equipment life is extended and most importantly, production can be increased where cooling
has been detrimental to output. You can create better maintenance and labor plans, which result in time saved. Overall, your
bottom line increases and you improve safety.

Easy Foam takes pride in providing products, services and systems to our customers, that will do NO DAMAGE to these delicate fin fan coolers and we work very closely with our customers to develop a foaming cooler cleaning system that will meet their individual needs. . .
Read On
.

Easy Foam :: Taking The Heat And High Cost Out Of Cooler Cleaning!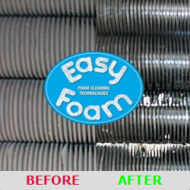 Easy Foam was developed to reduce the extensive costs associated with the cleaning of fin fan and compressor radiator coolers. When the fins of a heat exchanger get clogged and dirty, their efficiency is drastically reduced. To this end, Easy Foam is proud to present a revolutionary methodology for the affordable, convenient and safe foam cleaning of fin fan and compressor radiator coolers.
With our new, next generation foam generating equipment, that creates low pressure, high volume cleaning, Easy Foam has become a leading industry performer. Our products are environmentally friendly and our equipment is extremely easy to use and operate by your crew members or personnel.


AFFORDABLE, CONVENIENT AND SAFE FOAM CLEANING
OF FIN FAN AND COMPRESSOR RADIATOR COOLERS


COPYRIGHT 2009 - 2013 | EASY FOAM, INCORPORATED© - ALL RIGHTS RESERVED. DESIGNED & HOSTED BY SPC MULTIMEDIA GROUP™.
SUPPORT SERVICES

RECENT ANNOUNCEMENTS